Kuju Mountains hike to Nakadake
くじゅう連山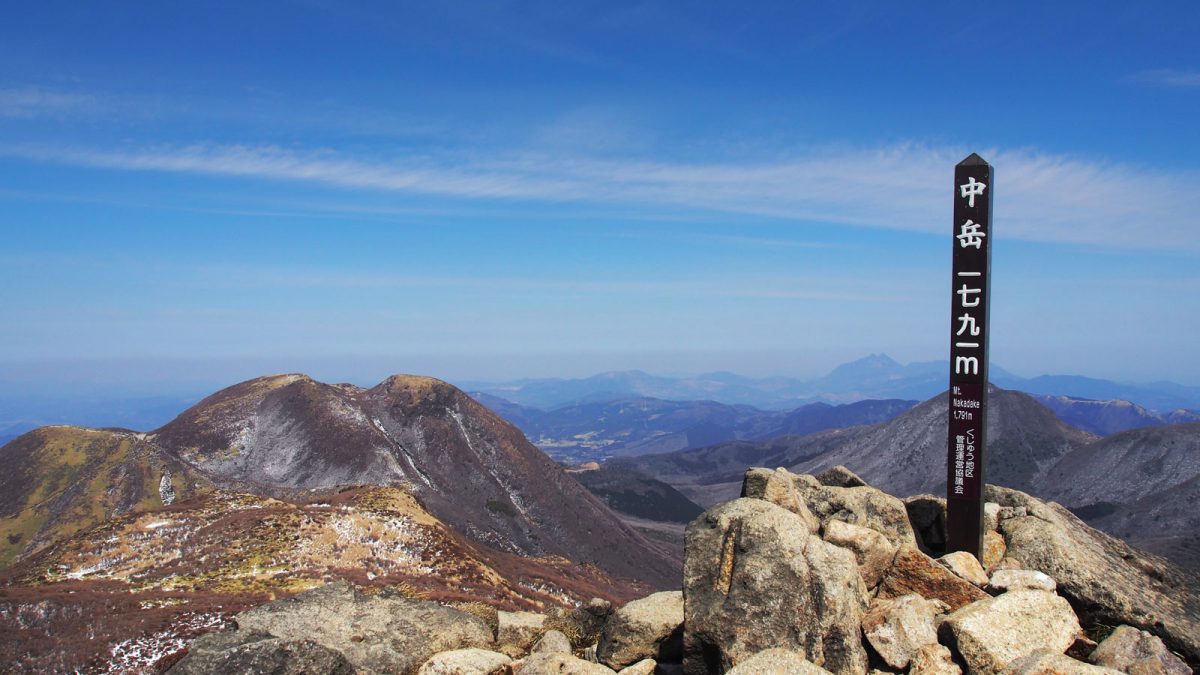 The Kuju Mountain range falls under the Aso Kuju National Park and includes the highest peak in Kyushu, the Nakadake 中岳 at 1,791 m elevation.  Kuju includes a vast network of hiking trails of all levels. The area is known for its peculiar vegetation and colours ranging from light yellow to dark orange, culminating in autumn.
The hike to Nakadake peak
Among the different trails we opted for the Nakadake trail. We parked our car at the Makinoto Trailhead, starting at 1,330 m. After climbing stairs, paved roads, passing trees and forests, the area opens to rocky paths with wide open views. In the distance you can see fumes coming out from some of the flanks.
On the way to Nakadake, we hiked the Kuju 久住山 peak at 1,786 m and the Tengugajo 天狗ヶ城 peak at 1,780 m.
In march there was still snow on some parts and it was quite cold, but the day was sunny and beautiful. It took us around 5 hours round way, with 800 meters elevation difference.
Tip: before heading to the hike buy some onigiri's or other food in your nearby supermarket. We bought ours in Kurokawa Onsen the day before so we could have an early start right after breakfast. Don't forget water or tea of course.
Practical info
We spent 4 days in this area and visited Mount Aso as well, which is also part of the Aso-Kuju National Park. For the resting moments we slept 2 days at the Aso Plaza Hotel in Aso and 2 days at Okunoyu, in the attractive onsen town of Kurokawa Onsen.
We last visited in March 2020.